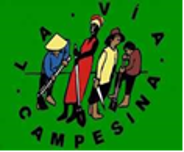 Latin American Coordination of Rural Organizations (CLOC), members of La Via Campesina, sends a message of solidarity to the people of El Salvador, and we condemn the violation of the constitutional order and the attempt to build a new dictatorship in this country that for many years has built social stability.
We have observed with concern that the government of El Salvador through President Nayib Bukele presents an authoritarian and anti-democratic machinery in a brother country that suffered many years of violence and war, which affects social stability and tramples on freedom of expression by moving towards a dictatorship.
The attempted coup to the legislative power carried out this Sunday, February 9, 2020 in the end did not advance but left an order, that in one week the legislative power make an authoritative, military-controlled decision.
We call on the international community to show solidarity with the people's struggle against a misogynist and manipulative government with a dictatorial and neo-fascist tendency, making use of its millennial conduct on social networks.
It is repugnant in a country that is still emerging from the impacts of the war of the 80s to hear the president call for insurrection accompanied by the Armed Forces from the blue room of the legislative branch. This is an act that violates the constitutional order, social peace and harmony of any country.
As a peasant movement, we demand respect for constitutional order and we ask the President of the Republic to resume public policies that improve the living conditions of those who produce food in the country and to guarantee that there is stability in the countryside to prevent human migration to other countries.
This gradually-built regime does not deserve to lower its guard with social mobilization. It is time to return to the dialogue between the powers of the state and to solve the problems of better tax legislation; to solve the water problem, the basic problems consigned and approved by the United Nations called the Sustainable Development Goals to eliminate extreme poverty in the country.
MANAGUA, NICARAGUA 10 FEBRUARY 2020.
Operating Secretariat
CLOC- Via Campesina